Geospatial Imagery is used more and more across industries because it provides up-to-date, accurate information about geographic areas of interest. Because of this, you need advanced software technology that can effectively exploit the growing number of sensors and the increasingly large datasets they provide. 
ENVI changes this paradigm by offering a complete suite of image processing and analysis tools that enable you to easily extract pertinent information from imagery without expending valuable time and effort learning advanced image analysis techniques.
THE PREMIER SOFTWARE FOR EXTRACTING INFORMATION FROM GEOSPATIAL DATA.
Quickly and easily perform tasks that require advanced image analysis tools.
ENVI FX (Feature Extraction) – find and extract objects based on the object's spatial, spectral and texture characteristics.
ENVI DEM (Digital Elevation Model) – quickly and easily create spatially accurate digital elevation models.
ENVI Photogrammetry (Orthorectification) – register imagery to ground coordinates & geometrically correct them to remove distortions that happen during image capture.
Guide you through advanced image analysis task.
Hyperspectral (Tactical Hyperspectral Operational Resource–THOR) – automated workflow designed to take advantage of hyperspectral imagery.
Anomaly Detection

Atmospheric Correction

Change Detection

Stressed Vegetation

Target Detection
Multispectral (Spectral Processing Exploitation and Analysis Resource–SPEAR) – automated workflow designed to take advantage of multispectral imagery.
Change Detection

Detect Anomalies

Terrain Based Orthorectification

Register Images

Pan-Sharpen Images

Assess Vegetation Delineation

Stress Detection

Find Similar Materials
Automated Processing Tools – take the complexity out of popular image analysis task.
Anomaly Detection

Change Detection

Seamless Mosaic

Image Registration

Feature Extraction

Thematic Change

Classification

RPC Orthorectification
IMAGERY BECOMES KNOWLEDGE
Use one solution to work with all your data types

Access a complete suite of analysis tools

Customize to meet your project needs
ONE SOLUTION FOR ALL THE DATA TYPES
Read and analyze different data formats. 

Fuse multiple data modalities. 

Exploit information from different sensor types.

Easily process large data sets. 
IMAGE ANALYSIS TOOLS
Spectral analysis tools.

Data analysis tools.

Advanced image analysis tools.

Extensibility – extend and customize features and functionality through an API.
Integration with your existing geospatial workflow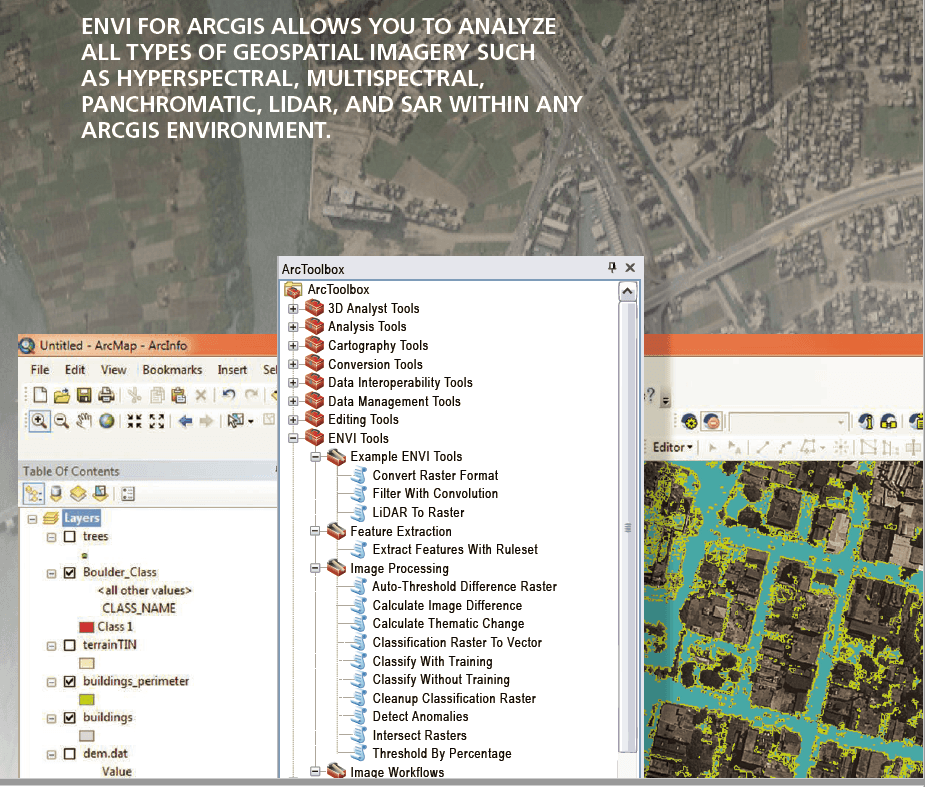 ENVI image analysis capabilities are fully integrated with ArcGIS® Platform from Esri, eliminating the need to switch between software packages.
You can easily access ENVI image analysis tools directly from the ArcGIS environment, send results from ENVI to a geodatabase, or push information from ENVI directly into ArcMap™.
What is ENVI LiDAR?
An interactive geospatial software environment that allows you to create powerful, realistic 3D visualizations and easily extract important features and products from LiDAR point cloud data.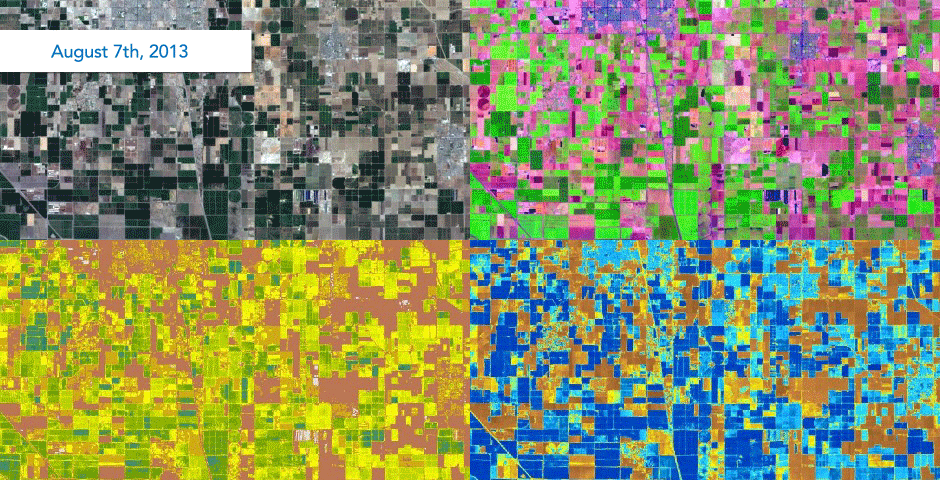 WHAT IS LiDAR?
LiDAR (Light Detection and Ranging) is a remote sensing technology that uses light pulses to measure the distance between a sensor and reflecting objects such as the Earth's surface, buildings, and trees.